Monday I had one of those "Great moments are born from great opportunity" kind of nights, remembering one of us who is gone too soon.
Pete was in the Air Force like me. He was someone I met when I was stationed out west; he showed up at a stick and puck one day and of course I notice the new goalie. He was slow and rusty, but had some experience in goal and was getting back into the game after a long time away. He worked his way into the fabric of the local hockey community over the next few years. His dedication, determination, and love of the game helped him make huge strides in his skill, and he was a busy, popular goaltender. He wore #9. Eventually some of us moved away for work, as he also did a little while later. He died unexpectedly this past summer, and left a big hole in the hearts of those left behind.
Monday I had the great privilege to play in an inaugural Army/Navy game at the Verizon Center here in DC, immediately after the Capitals game. The Army/Navy game featured members from all services (I played for Army), and was put on as part of Rivalry Week and to get folks pumped for this weekend's big football game. It was hyped through the involvement of the Army Chief of Staff (top ranking officer in the entire US Army), several very high-ranking Navy members, and the Washington Capitals. It quickly went from "casual pick up" to a relatively competitive, formal thing pretty quick as a result. We had refs, announcer, training staff, and even about 200-300 people in the stands to watch.
I got back on the ice over the Thanksgiving weekend for the first time in probably 7 months (easily been 3-4 years since I played consistently) to get myself somewhat prepared for this game, but I still went into it nervous I might let the team down and embarrass the Army and Air Force. Thankfully, the game went well, my team was fast enough and fun...despite the Third Period Penalty Parade, we managed to win 5-3. While not my best game, I felt dialed in and played confidently, and made the saves I was supposed to make (and maybe some that I wasn't supposed to, based on how my team reacted afterward). I was thinking of Pete and this game the whole weekend and how I wanted to play for him, how I was going to use that as my focus. I thought about making myself stop, look around, and appreciate being there on that NHL ice and be in the moment. I might never be there again. And I did stop, look up, and enjoy the view.
And if that's not enough, check out SFC Joe Bowser for being the most inspirational, badass skater out there. He chose have his leg amputated after it was badly damaged from an IED blast so that he could continue to play hockey.
Well...to my great surprise the game not only did we win, but I ended up being named MVP and was given the game puck from the Chief of Staff. He also coined me (military tradition, kind of a big deal at that level), and said "I'll put you in net anytime!" He asked me back for next year. One of the best parts of all of this was that my Dad, an Army retiree and the most important person in my life, was there in the stands to see me play. He met the Chief of Staff. He also got a coin. I haven't seen Dad smile, laugh, and have that much fun in a very long time. Him being there with me means the whole world.
I never in a million years thought any of this would happen. I couldn't script this any better if I tried. Or if I did, no one would believe it. Too coincidental, too much of a fairy tale. Why? All this happened six months to the DAY that we lost Pete. He spent his first couple of years in the Army before going to the AF. He also was a diehard Buffalo fan. Who did the Caps play that night? The Sabres.
Thanks Pete. This was all for you, buddy. I think you were out there on that ice with me.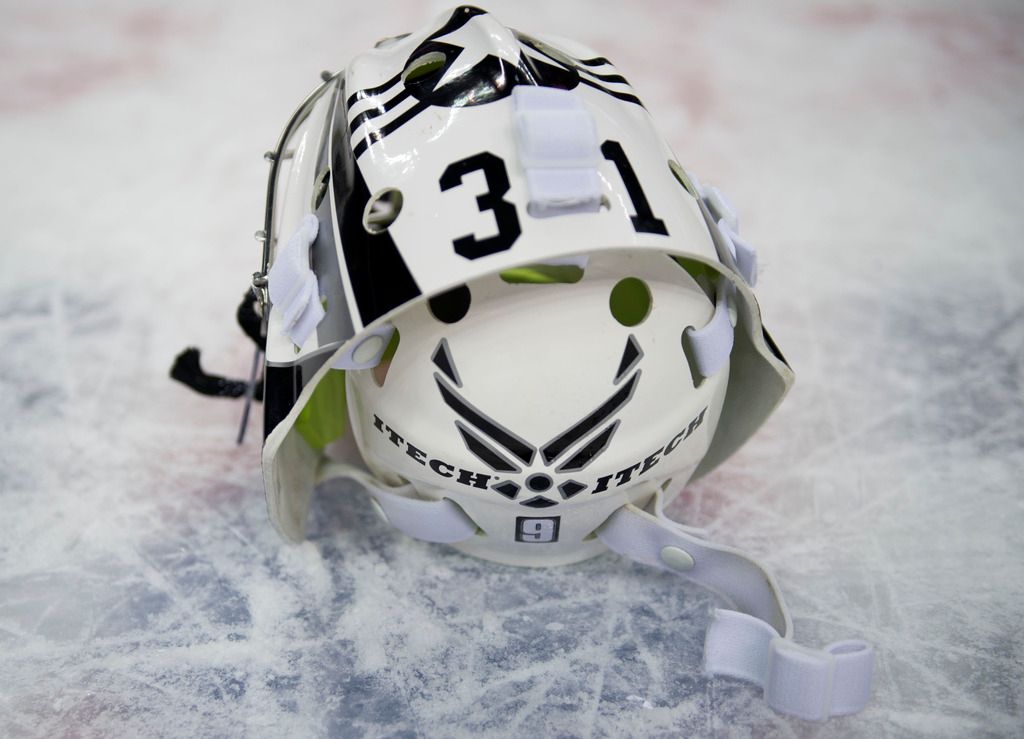 News articles (with photos/video):
https://www.stripes.com/sports/us/ar...-game-1.442908
http://www.militarytimes.com/photos/...my-navy-hockey
https://www.army.mil/article/179241/..._5_3_in_hockey
http://www.dcmilitary.com/pentagram/...782a154e2.html
Action shots: