First review I've done in a while but I have had several requests to review the Bauer pro shorts and thought I would throw the chest pad with it
Bauer Pro chest pad: 9.5/10
This unit is a Tank. I have yet to feel any painful shots or stingers and I've play drop in with a JR. team and some former pro players. I have taken a couple in weird spots in the shoulder and hurt a little but those were just some weird 1/1000 shots.
This chest pad is a little bulky with still very very mobile. This chest pad also has a lot of straps to let you fit the unit the way you want. it also has removable belly flaps if you want to make the unit a little shorter. Overall Ive had this chest pad 2 1/2 months and couldn't be happier. I highly recommend this chest pad
This pic is when it was new
Bauer Pro shorts: 9.5/10
I got this pants for Christmas from my parents and have used them about 4 times. I got an XL and I'm 6' 3'' 190lbs. These pants are meant to be a little loose and allow room to tuck in the chest pad. I never never tucked in my chest pad but I decided to try it with these and now I will never play with my chest pad untucked again. Maybe it's because I have the the Bauer pro chest pad bu these two fit perfectly together. I cant find a spot on my body that's not padded and everything just feels more secure.
I also love the built in knee pads this unit comes with. the completely cover your knee. the only down side is the don't completely wrap around, what I mean by this is when you butterfly your bare knee lands on the knee stack but your knee is still fully protected. I like them and have no issues but they can be removed.
The internal belt is also a nice feature but I wish you can make it tighter.
Overall I love these pants and highly recommend them.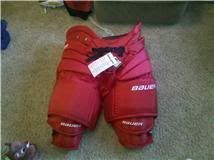 If anyone wants some more pics. Just ask and I'd be happy to take some