First review: bear with me
Background:
This is my second set of pads, (third if you count the foam franklin's I used for floor hockey) and the only reason I bought them, is I got a little extra cash from my boss, and instead of paying bills like I should've, I replaced my Tour Bio 1000's that have worn out after two years. I used those exclusively for ice, and besides the funny looks from other goalies, they served me well for $100 new. I initially was going to just replace my pads with a set of RBK seniors, but the $200 price on these left money to pick up the elite glove and blocker to match. I would have liked to get the elite pads, but that would have blown my wad right there, and face it... how many shots have you felt through your leg pads... I've played pick-up against AHL, ECHL guys with my tours, and never felt a thing... Durability is the only reason I should have bought the elites IMHO.
No couch... but is the chair ugly enough?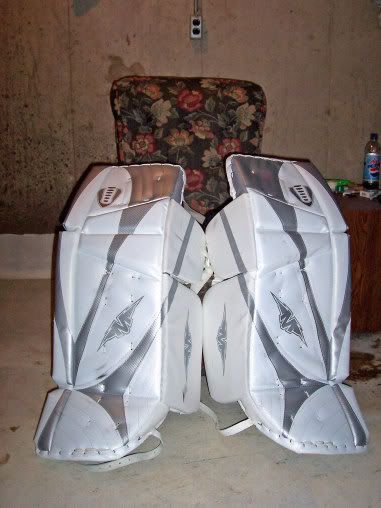 Appearance / Build:
Right out of the box these things look really sharp for the price. The descriptions read that the cover is a "weave material" but it just seems like heavy weight vinyl with the weave molded in somehow. No worries about that. The stitching is another matter though, especially behind the pad... While I was flexing the boot to break it in, it seemed like some of the stitching was just screaming to let loose... that plus the break on the boot of one pad didn't follow where it was supposed to.
Underside stitching (bad pic)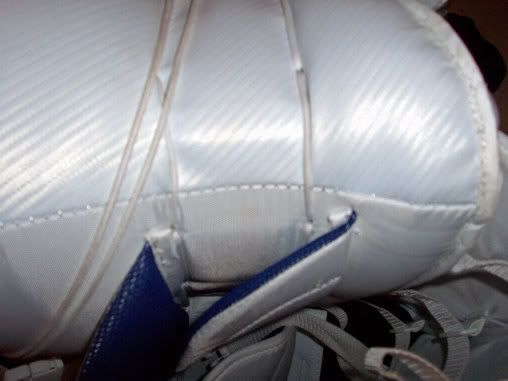 Weird boot break
All in all, great looking pads, but workmanship worthy of 10 cent an hour labor...
Strapping is all nylon with the exception of the boot strap, and this is really my biggest complaint as far as materials... the strap barely fits through the buckle, let alone with room to thread it back through... It looks as though the guys in china had a liquid lunch before cutting the straps too... they're a little wavy... and the holes aren't quite big enough for the pin. I'm thinking with time and wear this will work itself out though.
The first mod I did was to remove the thigh boards, and lace in the thigh guard from the tours, plus one of the knee stacks from my old pads. The lites ship with only one stack, and while the stack plus the knee wing are pretty thick, I still wanted to start with two and back down if it's two much.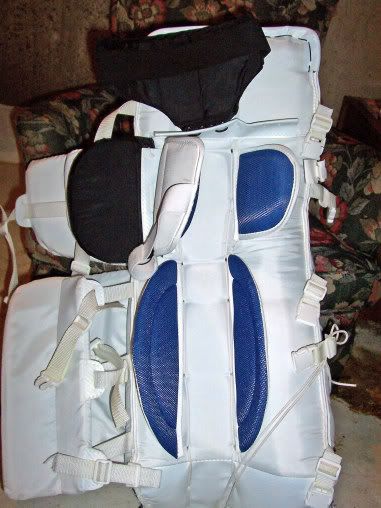 Performance:
I fully intended on getting a few pickup sessions in with these before a game... but my impatient nature took over, and I belted them on for my beer league game the same night I got 'em. My tours were 32's, and these are 34's, so I expected some difference, but I was pretty shocked once I was wearing them. The knee lock was only about 1/2 to an inch higher than what I was used to, but the thigh rise damn near eclipsed the thigh pad on my pants, they were a ton taller from knee to thigh than what I was used to, and the knee and calf wings seemed like they'd get all sorts of in the way when skating. They did feel very light for there size, and once on the ice, I was able to move every bit as well as my smaller pads. Big props in mobility. I had some over rotation issues, but I'm sure I need to dial in the straps, and specifically the toe lace to easily correct that. Rebounds died just like they're supposed to, and it was very easy to control the angle they came off, but I'm sure any flat faced pad is like that. As far as protection goes, I'm sure some of you are reading this and thinking I'm a head case for wearing "roller pads" with a "real puck!" I'm tellin' ya I've faced a ton of hard shots, and none come close to the shot that this guy on my team has. During warm ups, he made it his goal to mark up my pretty white pads as best as he could, and while I can barely see his shot whistling in from the blue line, I never once felt it through my pads. I actually took one right on top of the ankle as well were the boot bends... nothing. Again I only have one major complaint about performance, and that was that the nylon did not slide period end of sentence. I scotch guarded the crap outta them hoping to keep some mobility, but I'm thinking that it may actually have hurt the slide, because I would stop dead trying to slide. (ice was a little soft, so that may have had something to do with it... I didn't get that far in the "why is ice slippery" thread.)
Overall on a scale of one to five here's how I'll rate these
Look : 4
Feel : 3.5
Comfort : 4
Protection : 4
Performance: 3.5
Durability : ???
Value : 4.5 (could go up or down depending on durability
Hope that helps anyone who's thinking of these! I'll review the glove and blocker as soon as they show up!
More pics