I've gotten quite a few questions about this unit from board members so I thought I'd throw up a review. If I leave something out that you want to know about my experience with it or Passau feel free to ask.
For reference I skate 7-9 times a week against players all over the place skill wise. I definitely see quite a few more than competent shooters though. I have been using this C/A since March.
Past C/As:
Custom Vaughn 4000 Legacy
Reebok P1
Vaughn Vision
Vaughn Epic '10
Ordering:
Ordering from Hugo and Passau was a great experience. Hugo was quick to respond to emails and phone calls, and really was willing to talk to me and make sure I was going to get the C/A I wanted. He talked to me about a couple mod ideas I had and was completely open to doing them but was also honest about how he didn't really think they were necessary and explained why. I ended up thinking his ideas were better than mine and skipped them. The attention you get from a small company like Passau is really nice. You could have just about anything within reason done to this C/A to make it suit you. I know some people have griped about the velcro and if you don't like it I'm sure you could easily have buckles put on no problem. Hugo really worked with me to get everything right and make sure everything was as I wanted. Ordering couldn't have been smoother or more pleasant.
Initial Impressions:
Out of the box I was pretty impressed with the unit. It struck me as very flexible and almost thin seeming because of that but had HD foams and such so I wasn't too worried about protection. I really liked the Velcro which was apprehensive about when ordering since I had never tried that before. It gave the unit a very nice fit. The arms on the unit were definitely what impressed me most. They didn't leave any gaps by the floaters, seemed solid, and were amazingly flexible. The adjustable strapping on the shoulder floaters was also nice and allowed me to set them in a way that felt best for me with my gear. The whole unit in general is very adjustable so you can really make it fit you how you want. Despite being very flexible and NHL spec adjusting the floaters can make it look very big without feeling bulky at all. Trying it on and inspecting it had me very eager to get it on the ice.
On Ice Pt. 1:
I used the C/A for a couple weeks and really loved the mobility and feel of the unit. I also felt for the most part very well protected. I did end up in the first couple of weeks getting some bruises that I felt I wouldn't have gotten in my previous C/A. The problem areas were right under the heart guard (I got a pretty hard shot that bruised up my xiphoid process), and the right side shoulder floater (I probably didn't have problems with the left since those are often caught rather than hitting me). The xiphoid process bruise concerned me. The shoulder floater ones weren't really even stingers but somehow left a bruise. I definitely remember feeling the shot but not thinking "ouch." All in all I was still happy with the unit and just thought it needed a quick mod or two to add a little bit of padding.
Customer Service:
At the time I got the chest pad the only other person I knew who had one was sebx from the board who is now a rep I believe for Passau. When I first started having some problems I PM'd him on here to ask if he had had any issues with his in those spots. He said that he hadn't and seemed very concerned that I was getting bruises. Within a day of sending sebx the PM I had an email from Hugo letting me know that he had heard of my problem and wanted to know exactly where I was getting hit so that he could make me some plates to lace in and beef up the padding to alleviate the problem. Within a week I had some custom plates to match the C/A that were designed to lace in perfectly to the problem areas with ease and really integrate into the design of the C/A. I was really impressed with how attentive Hugo was to making sure his product was completely functional and that I was safe and happy wearing it. Another big thumbs up for Passau's customer service.
On Ice Pt. 2:
After lacing in the plates I have not had any issues with the C/A and feel that it is super protective. The only stinger I've gotten since was a shot where I was coming across on a 2 on 1 and got hit hard in the ribs. The C/A since it wraps around the ribs pretty well absorbed the shot enough that I just sort of got stung with the pucks impact but didn't miss a beat or feel anything afterward. Now I can pretty solidly say this is my favorite of the C/As I've used. It is continuing to break in more and more and is crazy flexible without any real signs of breaking down other than some normal wear that would be expected with any unit. I'm also really a fan of the velcro. I know it might not be for everyone but I like it. I like that the velcro strap is broader it gives a nice feel. It is also great how easy it is to adjust and put on. I don't have to worry about velcro breaking either. When it wears out which it likely eventually will I am handy enough with sewing that I can just grab some velcro from the store and fix it.
Closing Remarks:
All in all my favorite chest pad I've owned. I wouldn't say that it is absolutely perfect. I can say there isn't anything I can really think of that I'd change or could use improvement after the putting on the plates. The balance of protection, comfort, and mobility on this unit is really what puts it on top for me. I don't feel like I'm skimping on any of those areas for the sake of another.
IMPORTANT NOTE:
Since I ordered mine I have heard that they have addressed some of the issues I had on newer ones. I know for sure the heart guard area has been beefed up with more HD foam. So on new Passau C/As I don't know if the plates would be necessary to have the same performance as I'm getting from mine.
Also if anyone nearby western MA would like to check the unit out feel free to PM me.
Pictures of the Unit:
[IMG]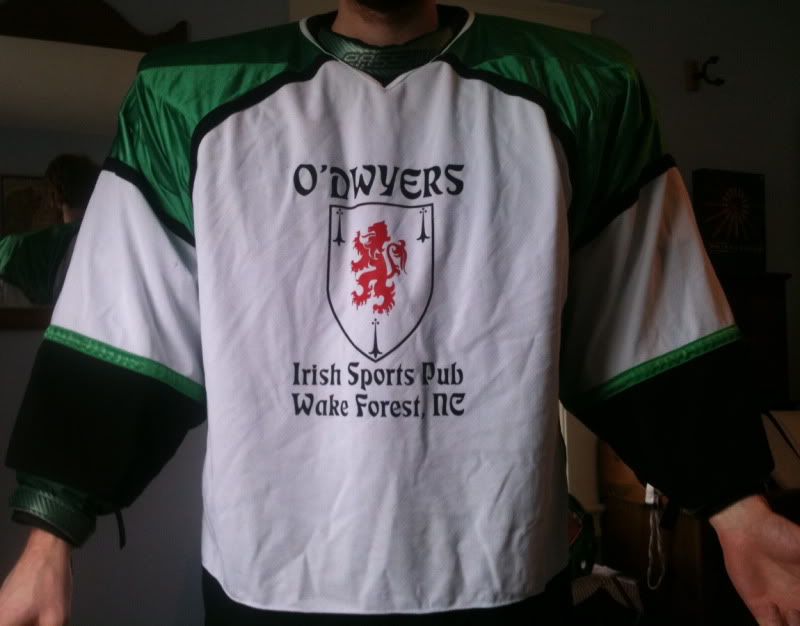 [/IMG]